EXTRAKONSERT!
11/5 Extrakonsert för Robert Wells med Dirigent Anders Berglund.

Tillsammans med  originaluppsättningen från starten ,1989, av Rhapsody In Rock.

Biljetter via Ticketmaster !
NORMAN&WELLS
RHAPSODY IN ROCK 30
CHINA
TV Gala and Masterclass in Hangzhou, China! 25 Oct-30 Oct
Wendt & Wells
Live In London!!!!
Norman vs. Wells
16:e Februari 2017 . Stor premiär Intiman i Stockholm. I samarbete med 2Entertain.  Lennie Norman och Robert Wells på scen tillsammans. Stand Up - Sit Down. Med på scenen är Wells Trio samt The Vocalettes.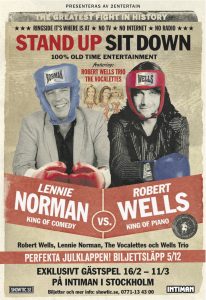 New Single!
It´s Christmas - Every Day Of The Year. Release Nov 14.

Nyhetsbrev arkiv
Klicka på länkarna för att läsa Daily Wells.