Norman vs. Wells
16:e Februari 2017 . Stor premiär Intiman i Stockholm. I samarbete med 2Entertain.  Lennie Norman och Robert Wells på scen tillsammans. Stand Up - Sit Down. Med på scenen är Wells Trio samt The Vocalettes.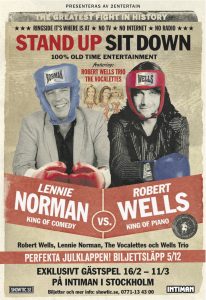 New Single!
It´s Christmas - Every Day Of The Year. Release Nov 14.
Tribute To Charlie
One night Only! Dagen innan Sverigepremiären på höstturnén.På minnesdagen 4:e Oktober hyllar Wells och Vocalettes Charlie Norman på Rhapsody Lounge/Engelen i Stockholm. Biljetter via engelen.se
SUMMER TOUR
Thanks to the ensemble, crew , artists and special thanks to Michael Bolton for a great tour and musical experience.
Åland!!
25th July Concert: Very Special Edition Rhapsody In Rock. One Night Only Incl Charlotte Perrelli, Johan Boding, LaGaylia Frazier,Maria Wells, Vocalettes, Rhapsody Symphony Orch and local Stars . Miramarparken, Mariehamn, Åland
Årets Turné!
Årets artister nu klara. Det blir fullt på scenen i sommar.

Rhapsody In Rock presenterar stolt :Very Special Guest Michael Bolton.

Wiktoria, LaGaylia ,Maria Wells&  The Vocalettes. Rhapsody Symphony Orchestra
Michael Bolton!!
En av  vår tids i särklass största sångare ansluter till årets Rhapsody In Rock turné.

Michael Bolton. Det blir många hits på scenen denna sommar.
Artisterna på väg in!!
Premiär i Rhapsody sammanhang.Vi välkomnar årets vocal sensation Wiktoria från Melodifestivalen med låten Save Me.
Nytt Album!
Release av Maria Wells Album "For The Love". Itunes och via Naxos samt Shopen på hemsidan.
Guinness World Record
January 15 when BBC Radio 2's 'Friday Night is Music Night' celebrated the Guinness World Record 60th Anniversary, the programme managed to set its own new record. In a PopMaster reversal of sorts, Radio 2 presenter Ken Bruce was able to recognise 13 ABBA songs played in a minute, by Swedish pianist Robert Wells.

Nyhetsbrev arkiv
Klicka på länkarna för att läsa Daily Wells.